Buy any of these accessories with your map and get a 15% discount (automatically calculated in cart).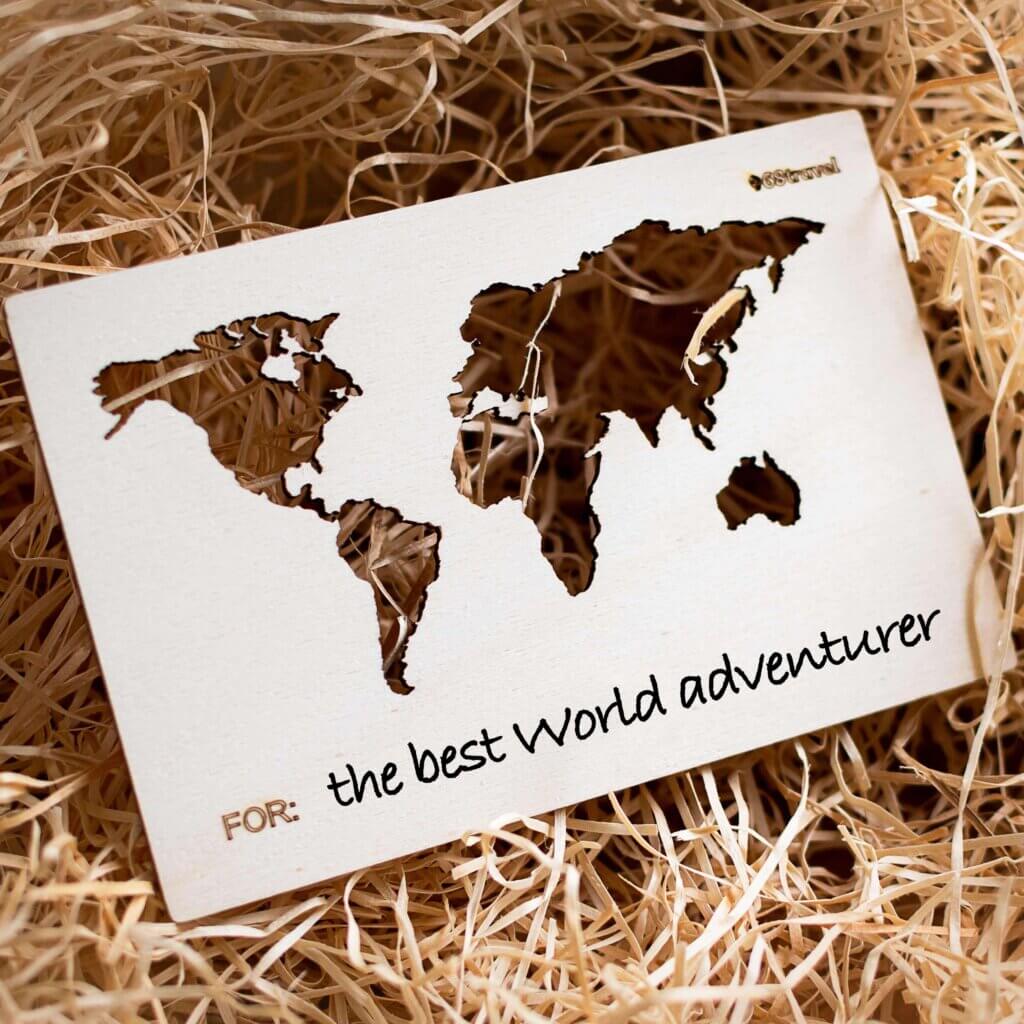 Wooden World Map Gift Package
Add these 3 products to the cart:
Any wooden 3D map
Wooden World flags – complete 346 flags
Remote, Exotic and Arctic islands
Then use coupon 68gift in the shopping cart to get:
FREE wooden gift card
FREE ocean names for your map
extra 15% discount on all other wooden map accessories
---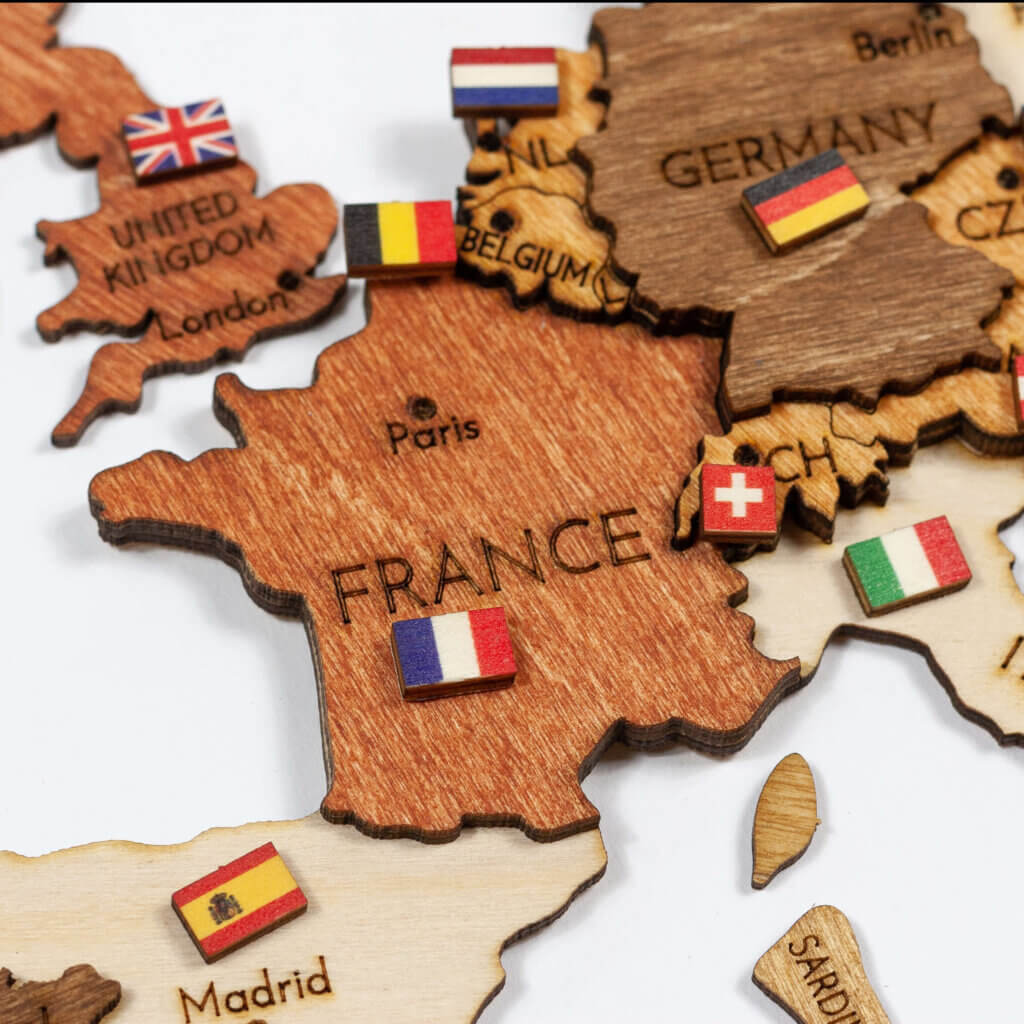 Wooden World Flags
346 easy to stick wooden flags from around the World. Pins can be used to mark places you have visited or would like to visit one day.
World country flags (193 flags)
USA states (50 flags), Canadian provinces (13 flags), Australian states and territories (16 flags)
Extra territories and regional flags from around the World (74 flags)
---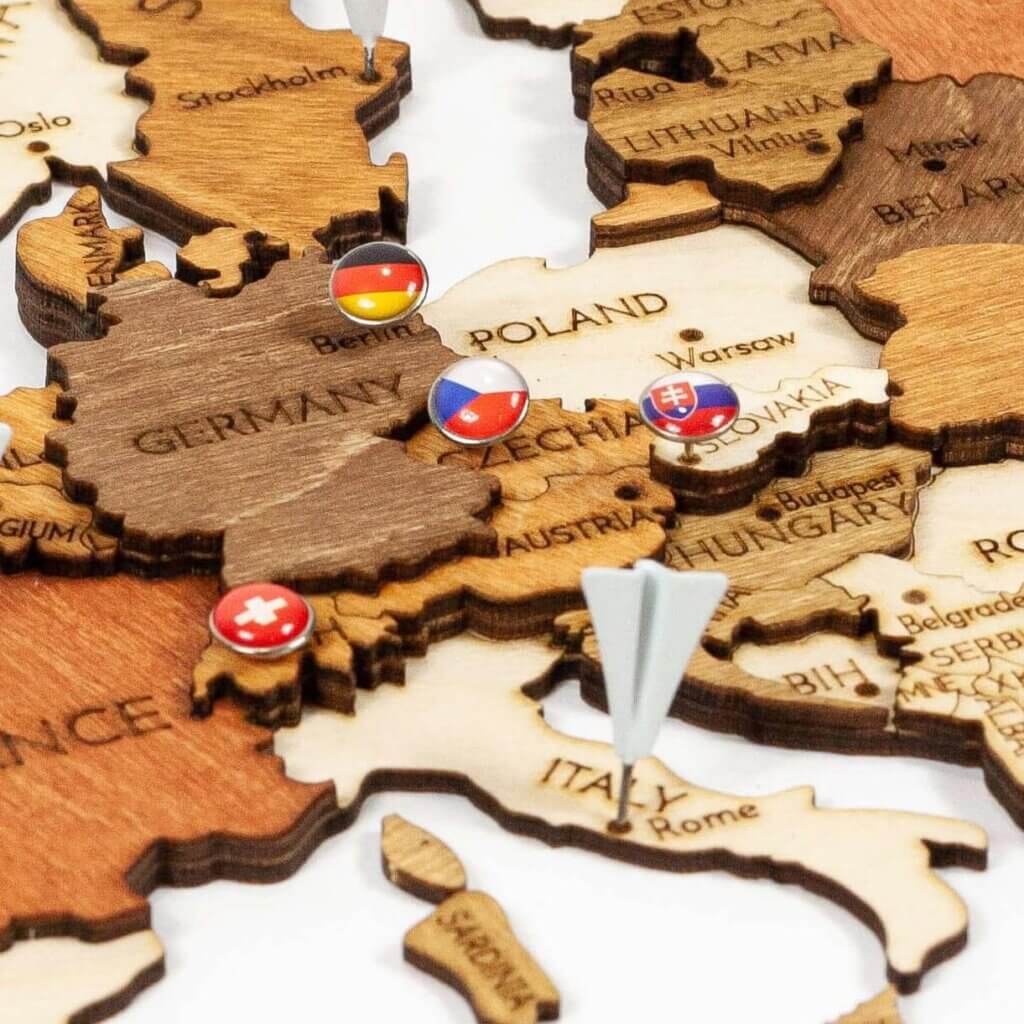 Country Flags Push Pins
287 metal push pins. Handy small size, colorful and convenient.
---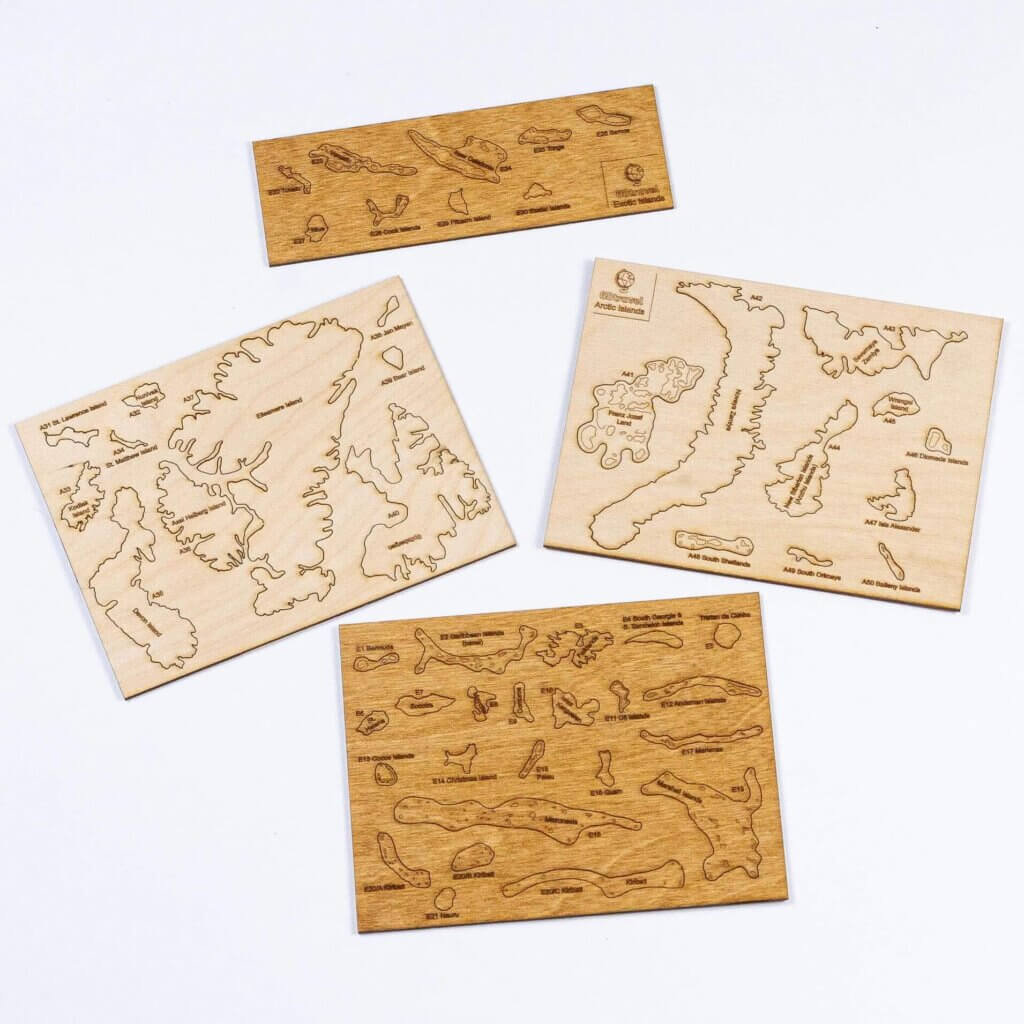 Exotic, Remote and Arctic Islands
Would you like to make your Wooden World Map even more detailed and complete? Then get this set of an additional 50 islands that fit the World Map perfectly.
---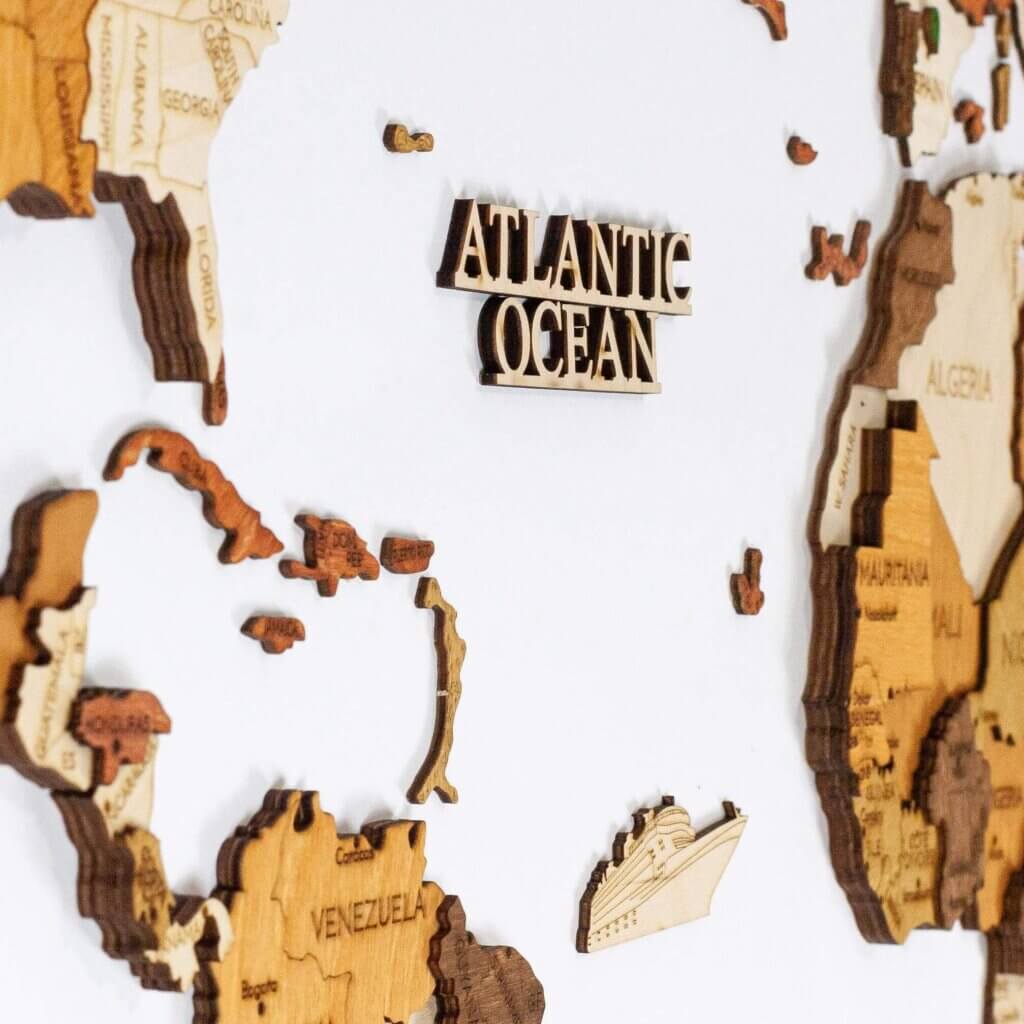 Ocean Names
Included are these wooden ocean names: Pacific Ocean, Atlantic Ocean, Indian Ocean, Arctic Ocean, Southern Ocean.
---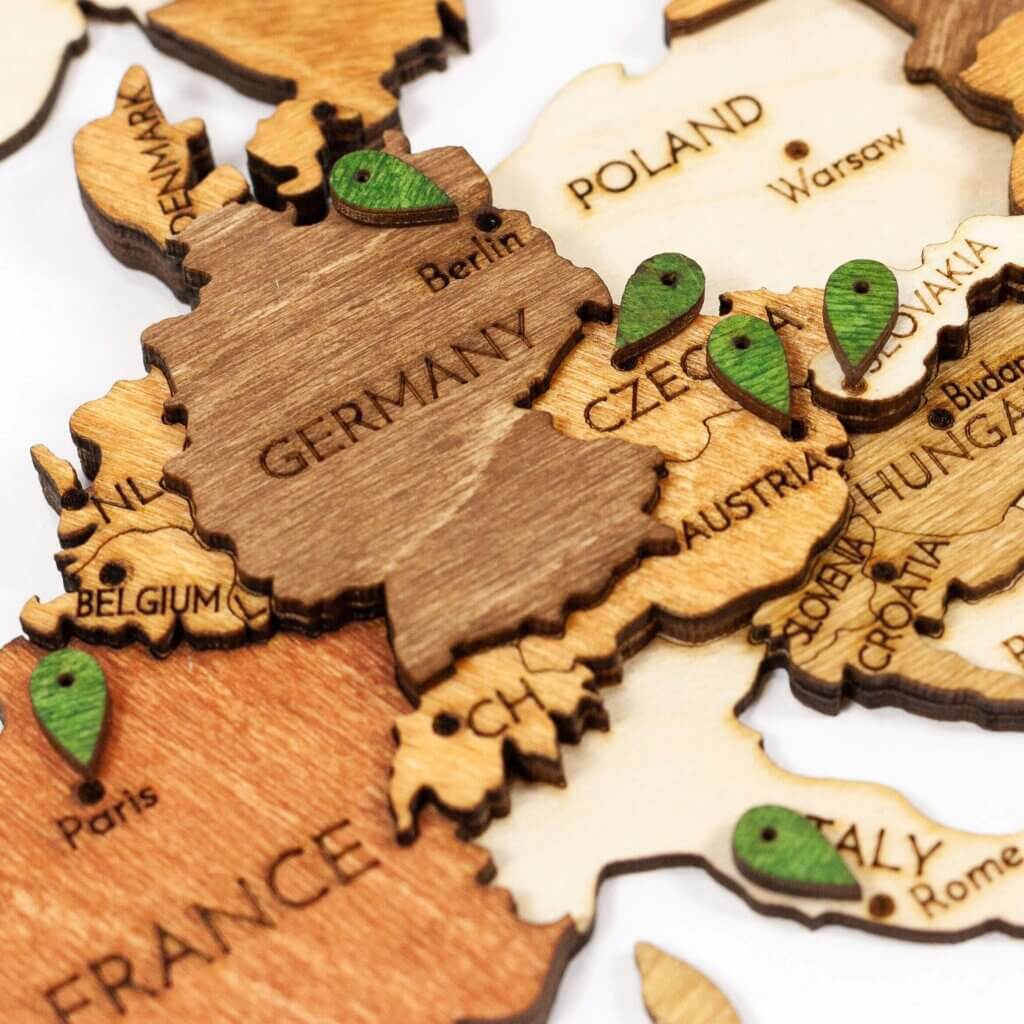 Location Markers
Wooden pins used to mark visited locations on various maps. 20 green pieces are included.
---
Metal Aeroplanes with Pins
50 small plane pins packaged in a box that can be used to mark places you have visited or would like to visit one day.
---
2-layer Antarctica
A more elaborate 2-layer 2-colour Antarctica wooden panel.
Please note that the ADVENTURER map style includes a simple one-layer Antarctica.
---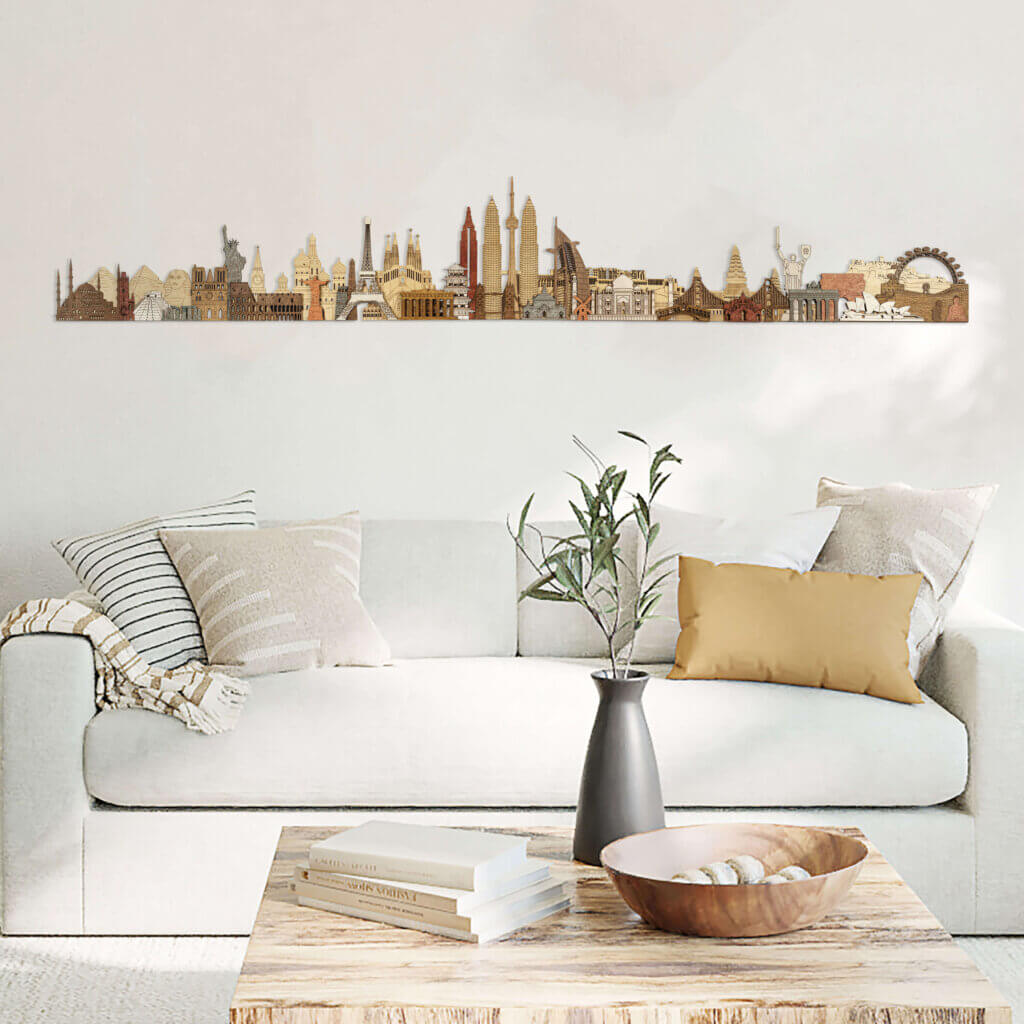 ---
Wooden Landmarks
Designed with great attention to detail. The individual pieces are stained to various colours and arranged to achieve an incredible-looking 3D effect. You will love the shadows and intricate light effects this wall decoration creates.
Please note that the EXPLORER map style already includes a 105cm / 41″ World Monuments and Attractions panel.
---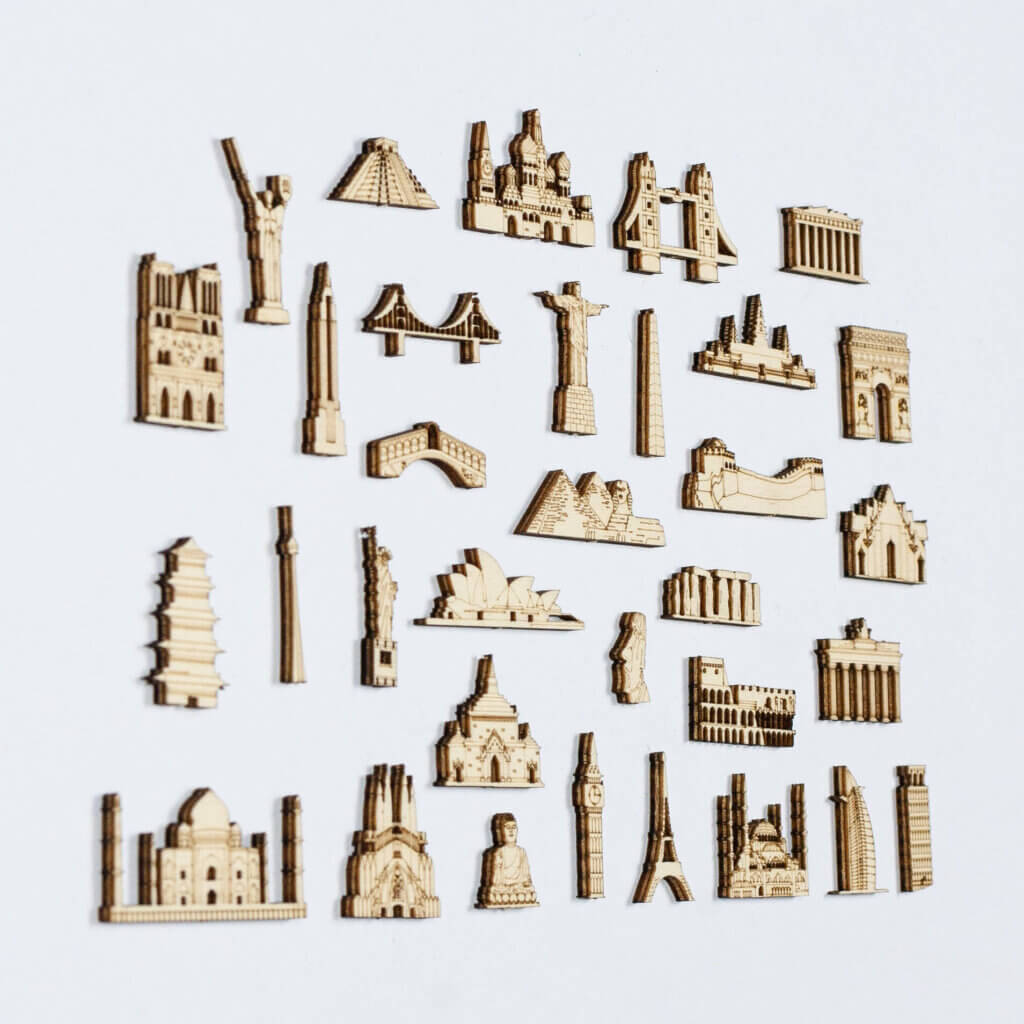 Wooden MINI Landmarks
34 world mini wooden landmarks from around the World. Each piece comes with and adhesive peel-off tape on the back. Add them to your map or stick them to any other surface.
---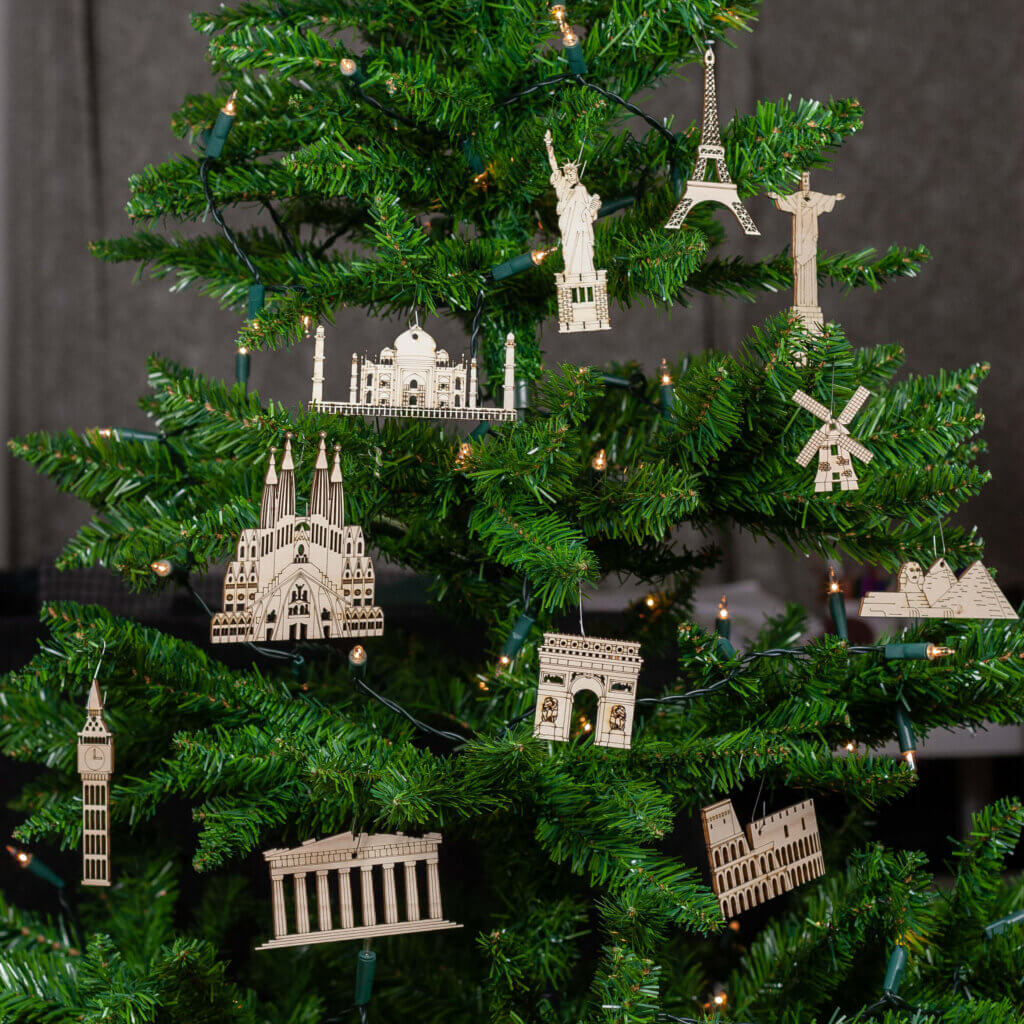 Wooden Landmark Ornaments
12 large wooden ornaments are a great Christmas decoration item for any adventurer. Or just hang them anywhere in your home.
---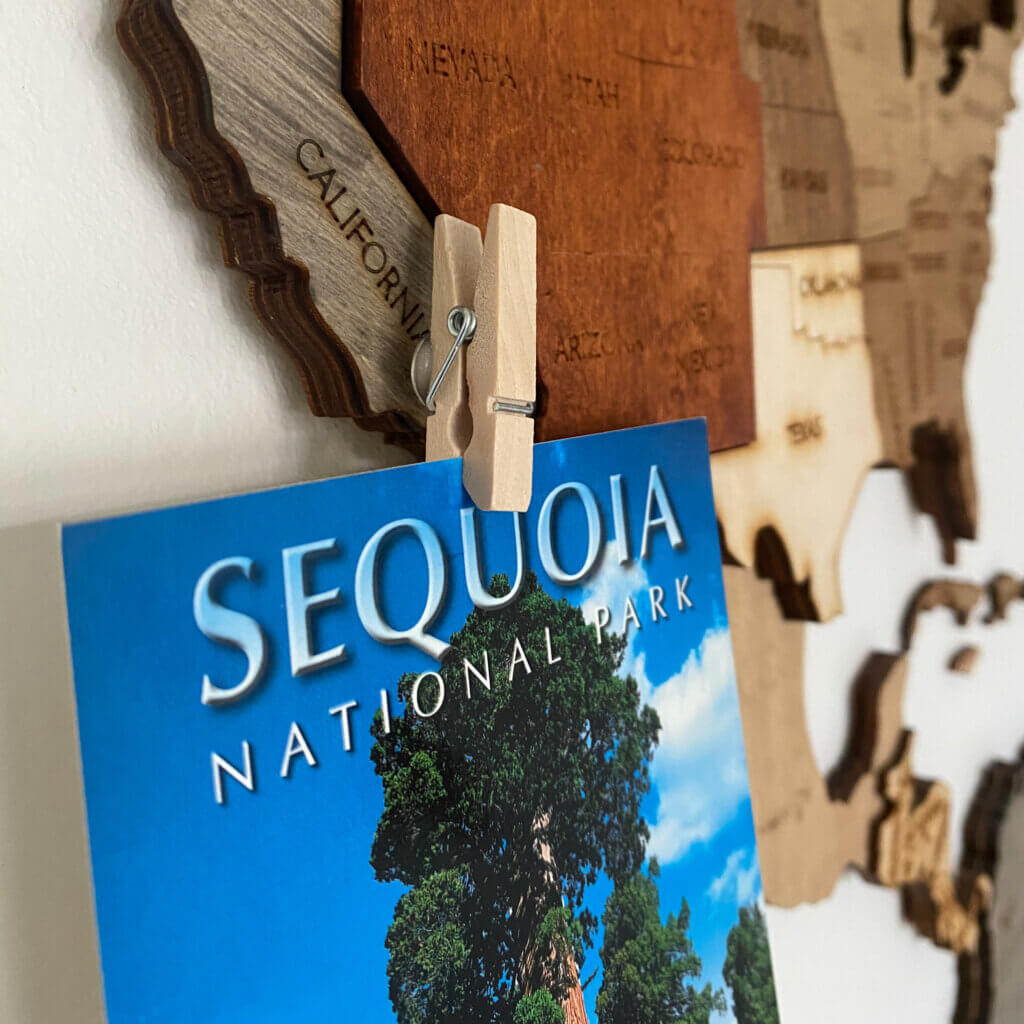 Photo Clips with Pins
30 wooden clips with push pins which can be used to display photographs and other personal items alongside our wooden and scratch maps.
---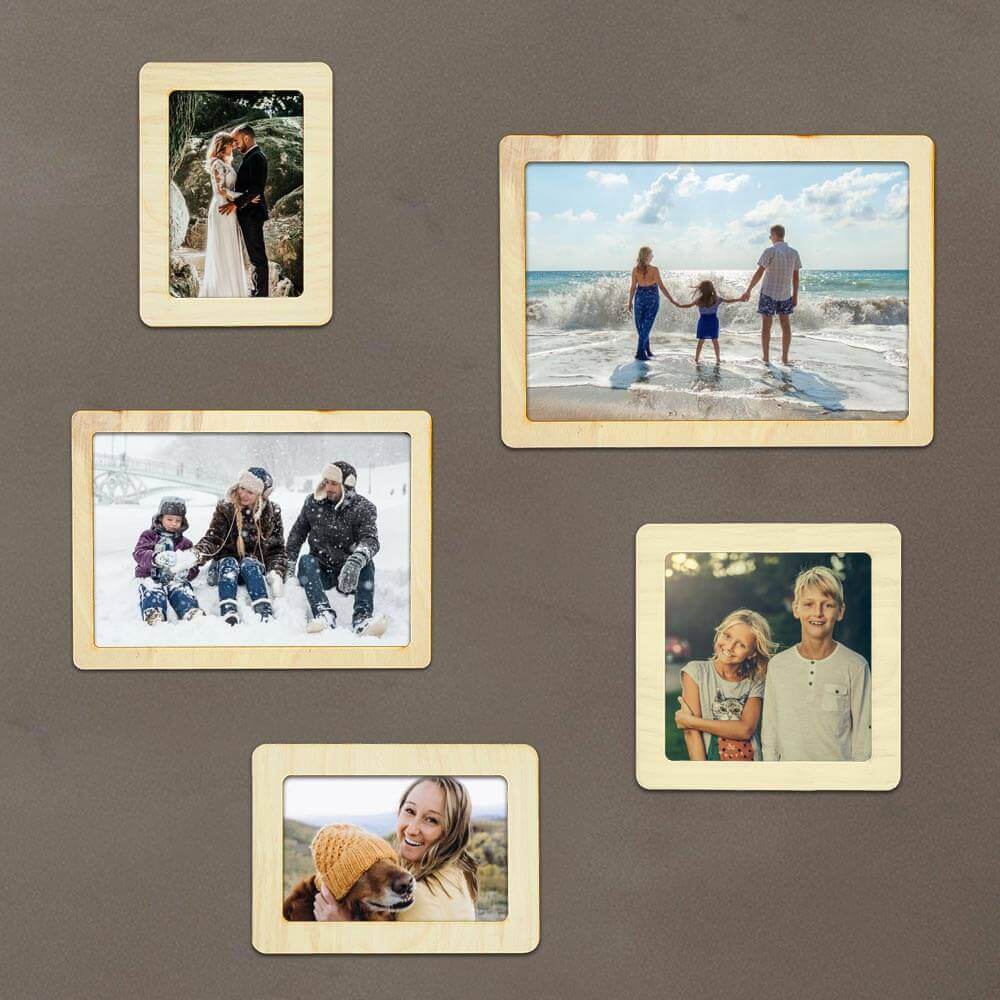 Picture Frames
Add your favorite photos next to your new wall decoration. Various sizes available.
---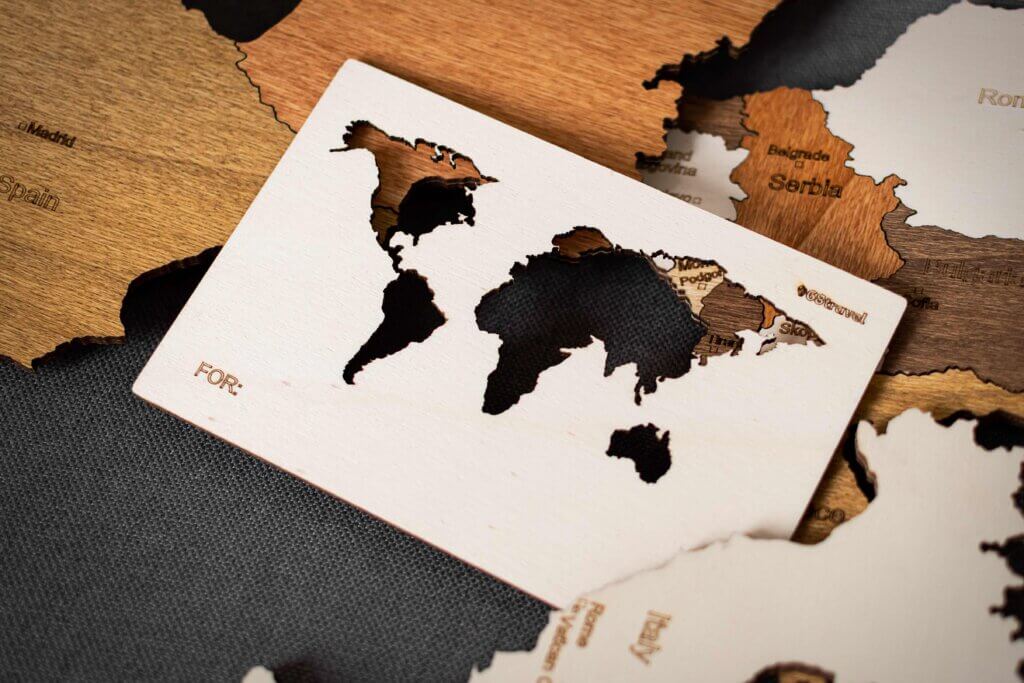 Wooden Gift Card
Give the nicest gift in style. An original wooden gift plaque that can be included with any of our wooden maps and decorations.
---