Top quality highly detailed custom wooden wall map for your home or office.
Let's be honest. A good gift can make all the difference. And what better way to show someone you really care than by giving them a remarkable present that will leave them completely speechless? Luckily, we've made this one easy for you. Whether you need a present for your loved one, your boss or your colleague, this might as well be your ultimate solution!
Surprise them with the most detailed wooden wall map on the market! With its multilayered wooden panels, precise details, high-quality finish and endless customizability, you'll be more than ready to fulfill the dream of any enthusiastic traveler.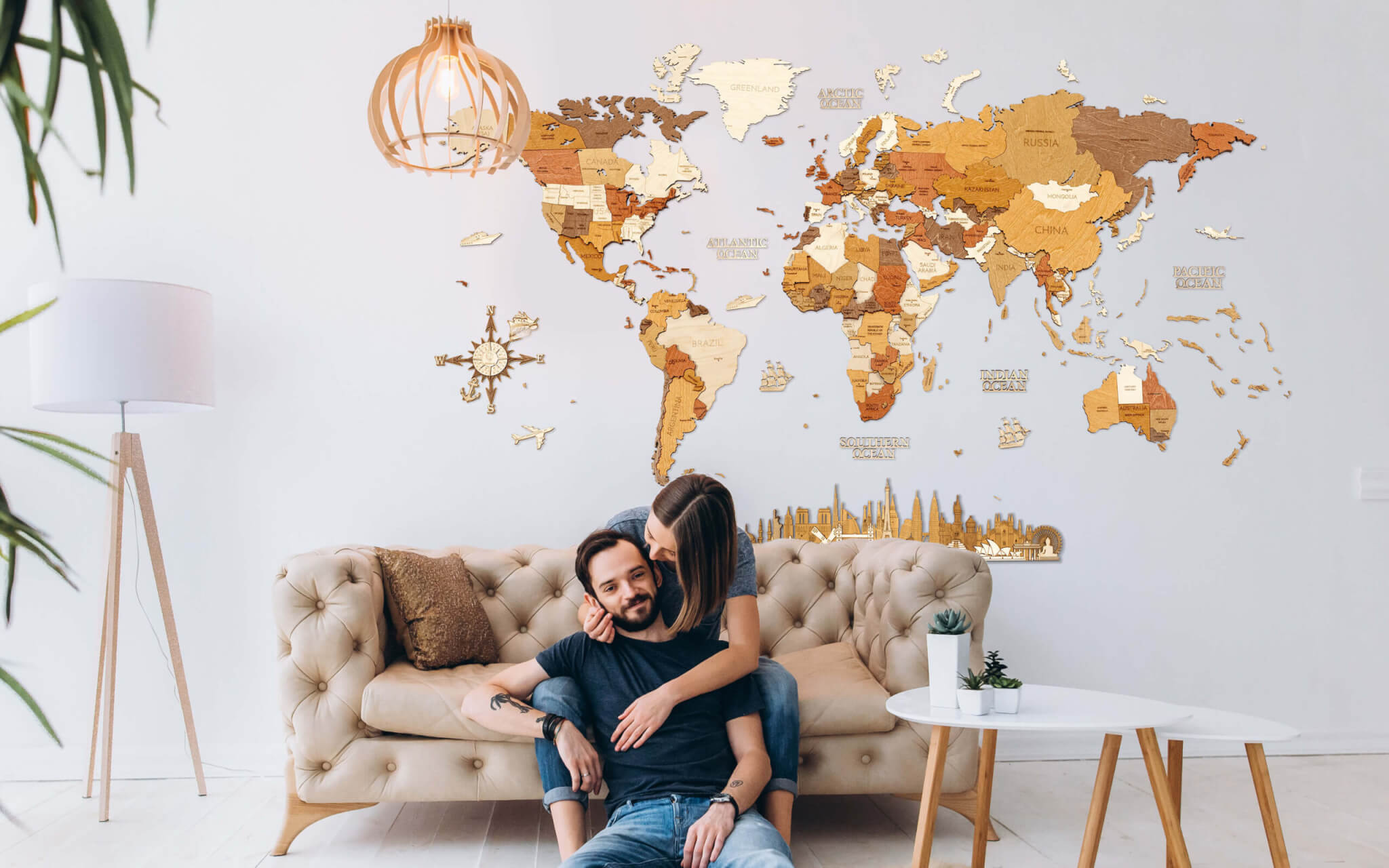 Thoroughly manufactured by 68travel™️ in Slovakia – the geographical heart of Europe, the handmade world map comes in many sizes, several styles and colour combinations as well as 5 languages.
Other than country names and border lines (including USA states, Canadian provinces and Australian states), the world map contains engraved city names, 56 exotic, arctic and remote islands, and additional decorations like ships and airplanes! The creators went as far as adding a gorgeous 4-layer 3D wooden compass and the option to enhance the map with Antarctica or an aesthetic panel containing world's most famous monuments and attractions. The map also offers the possibility to add one's favorite city or other custom details that will make it a perfect gift.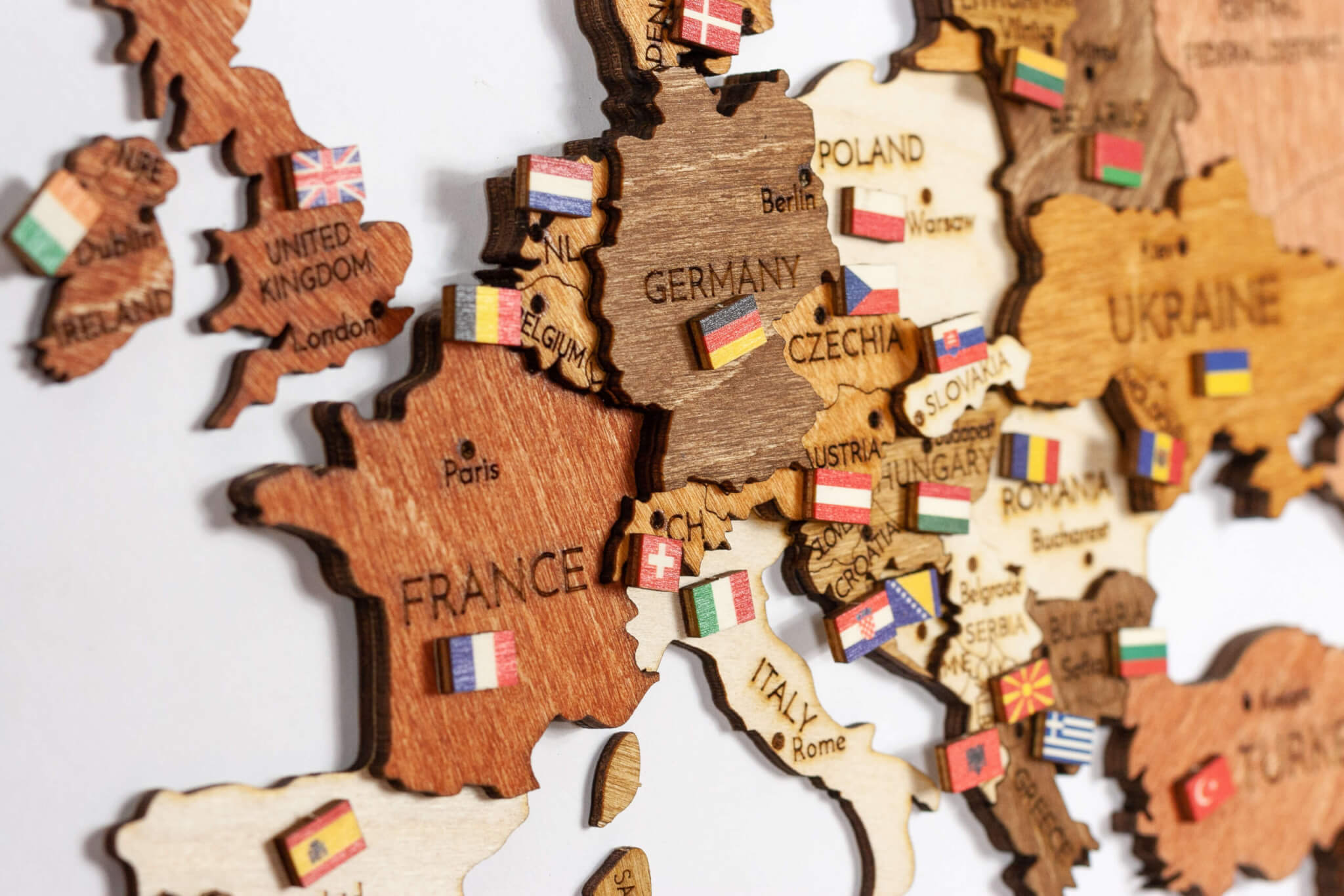 However, there's more to the world map than what meets the eye; combining the production techniques of cutting, engraving, manual staining and gluing gives it an outstanding 3D effect featuring 5 different colors of wood. Unlike many other wooden products, all 68travel's decors are made using lightweight, eco-friendly wood from responsible sources that is easy to clean and contains materials safe for children and the environment.
68travel also promises (and demonstrates) a truly stress-free installation. With a thickness of 3mm – 18mm (0.12in – 0.71in) and double-sided adhesive tape included, anyone can get straight into decorating without the hassle and tassel of purchasing additional mounting gear. To top it all off 68travel™️ offers worldwide delivery, free EU shipping and lifetime guarantee for their perfectly crafted wooden maps.
Naturally, not everyone has enough space to fit an entire world on their wall. The wooden country maps might be the way to go if you want something smaller, or if you just prefer a specific country. As of now, there are many beautifully detailed countries available, all of which contain engraved city names, roads and regional borders. Show your patriotism and present your loved ones with a remarkable map of their beloved homeland!
Interested in more unique decor? Check out these organic moss maps!
Still not sure what to get? Here's a full list of wall maps and decor you can look through. 68travel™️ is a dedicated oasis for all adventure seekers made by travelers for travelers. With products ranging from exclusive wall maps and decor to the most essential travel accessories, high quality clothing, hiking and camping gear, there's no other place that provides so much amazing stuff for those looking to live life to its very fullest!